If you say cockamamie, you say Naples. A version of coso, an emergency appellation for any object or person whose name you cannot remember or whose exact name you do not know at all, more truthful, more colorful, probably even with an offensive streak, at least originally. The term, however, means porphyry cubes for paving streets, sanpietrini in short.
The Parthenopean ciclovintage, the Vulcanica, is traveled mostly on roads with sanpietrini. This is where the spirit of old-time cycling will be experienced. This is an event that is part of a circuit of SOUTHERN Cyclohistorics with twinnings with Benevento's imageMaleventum and Scauri's Marittima and the Waterfalls to Lake Isola Liri cyclostorica.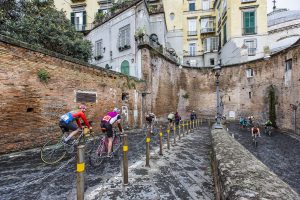 The goal is to take a dip into the past, from the clothing, to the bikes, to the route, everything has a more authentic flavor. Without too much technology or technical suits. Spirit of adventure, sweat, toil and brotherhood among the participating cyclists are the key ingredients for the success of the event. The rules, which are unbreakable, state that in order to participate, you must have vintage bikes so that you can free from attics and storage rooms means that have been stationary for years and get them moving again. Because you know bikes have souls and in this way we bring them back to life.
The appointment is for Sunday, April 10 at 7 a.m. sharp in Bicycle House, Galleria Principe di Napoli, coffee croissant and off we go. The route will be about 40 kilometers long (with about 700 meters of elevation gain) and will cross the length and breadth of the city showing its artistic heritage in all its splendor and passing through popular neighborhoods and unusual and secret routes. From the Botanical Garden to the Real Albergo dei Poveri, from the Real Bosco di Capodimonte (with a stop to admire the first of the day's fantastic views) to Sanità, Quartieri Spagnoli, SpaccaNapoli.
There will be a passage through Piazza del Plebiscito, with the descent from Monte Echia, a passage through the seafront admiring the Castel dell'Ovo, and then a treat the special passage through Villa Doria d'Angri, home of the Parthenope University, which is sponsoring the event and exceptionally opens the doors of its historic headquarters to the city, where the cyclists will face the splendid uphill hairpin bends and admire from the Posillipo hill the unique views overlooking the Gulf of Naples.
For those who wish to participate, the registration cost is 15 euros including race pack, refreshments, insurance and pasta party. There is time until April 8 by sending an email to napolibikefestival@gmail.com accompanied by a photo + vintage bike (if possible) of the participant.
paypal online payment:
https://www.paypal.me/napolipedala